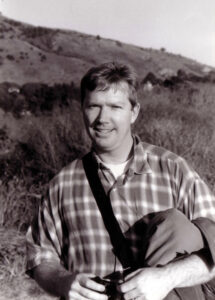 Why art?
This is my "encore career". After toiling away 20 years in technology and marketing jobs, 911 and a significant health scare, I began thinking of my legacy. Would it be developing a high tech product, or new marketing campaign? Probably not. Both of those careers create ephemeral results. I wanted more, and having forgot to have children ;-), I realized that if I wanted to leave the world a better place than when I entered, I knew I'd need to re-think things. I also saw the world change, from the optimism and exciting changes in the 60's, to the greed and paranoia of the post 911 world. People need escapes. One of the highest complements collectors give is "I feel like I've been to that place, I'm taken there". That's my motivation.

How I got here
The creation of art considered mysterious and intimidating, at least in American culture. I was struck on a trip to Chile in the '90's, how expressive the Latin American culture is. Walking through a park, there were children drawing with colored chalk on the sidewalk, young adults sketching, and musicians playing and singing. It seemed to me this culture was not intimidated by art—and they made the time for it. I think many Americans don't, and that's a shame. There should be no mystery. Everyone has something to say, and a way to say it. I guess this intimidation comes from the judgements others make when they see art. No one can judge your art, but you. It's your trace of life. It's also hard work and study, not "talent". I guess it's true that some people may have more of a natural tendency than others to draw, or show other skills, but it should never be an excuse not to create. Everything I do can be learned. I also dislike "talent" because I think it discounts the hard work that goes into building skill.
My viewpoint
In physics, it's said, "for every action, there is a reaction". My reaction to the beauty I see in life is paint. What and how I paint is based on an emotional connection to a subject. I can paint the same scene dozens, hundreds of times with differing results because I'm not a camera. I don't paint unless I have something new to say–unless I'm focused on learning, which is actually quite often. Like a musician who plays scales, I paint studies that have no particular meaning, other than a lesson, often to connect with the physicality of paint, surface, and so on. This also means that I have multiple personalities! This sometimes confounds collectors, because I have more than one "style". I'm not consistent, because the confluence of emotional reaction, scale, materials and many other factors come
into play. My art isn't usually planned, so the result is not predictable. I admire some artists for their firm viewpoint and definitive work, but that's not me. One reason I believe some artists paint with a very specific viewpoint is market expectations. I won't allow my art to suffer at the hands of market expectations. I hope collectors buy my art because they have a connection with an individual painting for its own merits.
What I choose to paint is often tied to what I need to learn. At times, my focus may be on finding the beauty in the most simple, mundane topic, and others–usually around the time I need a break from painting–I need a grand scene to spark that reaction.
Regardless of this statement, I hope my art connects with you. I hope I take you there.
Selected Exhibitions, Awards & Press
Press

"Theme and Variations, Plein Air Style", May 2014, Outdoor Painter (link)
Terpening's Research Reveals What Works for Artists Online, April 2014, Outdoor Painter (link)
Writer, PleinAir Magazine, June/July 2013: "Social Media: Bright Shiny Object or Artist's Tool?", by Ed Terpening
My Favorite Place to Paint: Ed Terpening, October, 2013, Outdoor Painter (link)
Trash into Treasure, November, 2013, Outdoor Painter (link)
Contributor, Outdoor Painter 2013: Use Social Media Smartly and Efficiently (link)
Speaker, 2nd Annual Plein Air Convention, Monterey (2013)
Contributor , American Artist Workshop, Special Issue, Professional Practices (2012 link)
Featured artist, 1st Annual Plein Air Convention, Las Vegas (2012)
Contributor, "The Complete Painter's Handbook" (American Artist, 2012) (link)
Advisory Board Member, PleinAir Magazine (link)
American Landscapes (2011 calender) (link)
American Artist Workshop magazine, June, 2010,
"Workshops as Shared Experience", painting at the Fobes' Timberfield (link)
AMERICAN ARTIST, April, 2009, 8-page cover story, "Modern
Ways to Sell Traditional Art" (link)
"What Secret Oil Color Do You Love Most?", Artist Daily, Steve Doherty's Blog, 2009 (link)
PALO ALTO WEEKLY, Artist of Note, August, 2005
OUT & ABOUT magazine article, August, 2005
LOS ALTOS TOWN CRIER, "Terpening's Expressive Landscapes come to Viewpoints", August, 2005

Awards

FINALIST, RAYMAR ART COMPETITION 2007
HONORABLE MENTION, Vahona Plein Air, 2007
"MAKING A MARK" (London, UK), Best Plein Air Blog 2006
FIRST PLACE, San Luis Obispo Plein Air 2006
DIRECTOR'S CHOICE Purchase Prize, Estes Park Plein Air 2006
HONORABLE MENTIONS, Hidden Villa Plein Air 2006,; "Face
& Figure", Pacific Art League 2005; "Small Works", Pacific Art League 2005
SOLO POSTCARD SELECTIONS: "California Dream'n" PAL '05; "Full Spectrum: All About Color" PAL '05
ARTIST OF NOTE, Palo Alto Weekly, 8/05

Selected Exhibitions

Castro Art Mart (San Francisco), 2023
Art Ignites! (San Francisco), 2023
De Young Museum (San Francisco), Pictures of People (2022)
ArtSavesLives shows at The New Farm (2021-2022)
Spark Arts Solo Show, San Francisco, 2017
Art Saves Lives Gallery, San Francisco, 2016
Cafe International Group Show, San Francisco, 2015
Mission Cultural Center for Latino Arts, San Francisco, 2015
"Timberfield 10", Forbes Galleries, NYC, 2011
San Luis Obispo Plein Air, 2011
Door County Plein Air Festival, 2010
"Twighlight on the Terrace" (Heast Castle), 2010
Two-man Show with Andy Balantyne, Viewpoints Gallery, 2009
North Tahoe Plein Air, 2009
San Luis Obispo Plein Air, 2009
SOLO SHOW: "TIMELESS", Robert Lewis Gallery, 2007
Telluride Plein Air 2007
San Luis Obispo Plein Air ('06, FIRST PLACE-'07)
"Jewel by the Bay", Frank Bette Center, '07
Gold Country Plein Air Invitational, The Vault Gallery ('06-'07)
Solo Show, Robert Lewis Gallery ('07)
Vahona Plein Air, Eppherson Gallery (HONORABLE MENTION, '07)
San Luis Obispo Plein Air Invitational, 2006 (FIRST PLACE)
Estes Park Plein Air Invitational 2006 (DIRECTOR'S CHOICE PURCHASE PRIZE)
"My California Views", National Steinbeck Center/Museum ('06)
Autumn Colors Show, Viewpoints Gallery, Los Altos, CA ('06)
"Best of Plein Air Exhibition", Laguna Plein Air Painters of America ('06)
Los Gatos Art Association Juried Exhibition, Los Gatos Museum ('06)
Peninsula Plein Air Exhibition 2006, Juried Artist
SOLO SHOW: "The Expessive Landscape", Viewpoints Gallery, Los Altos, CA ('05)
SOLO SHOW: "The Expressive Landscape", Viewpoints Gallery, 2005
Central Coast National Fine Art Competition ('04, '05, '06)
Point Reyes Plein Air Festival, Invited Artist ('05)
Hidden Villa Plein Air Competition ('05, HONORABLE MENTION)
Laguna Plein Air Painters Membership Juried Exhibition ('05)
Nash Gallery, "Verde Plein Air" Show ('05)
"Touch my heART – That's Amore!" show at Museum of Los Gatos ('05)
Los Gatos Plein Air Art Festival Competition 2004 (juried artist)
Laguna Plein Air Painters Association "Artists Members National Juried Exhibit 2004"; "Meet the Muse", juried figurative show, 2004
Viewpoints Gallery "Into Plein Air" ('04), "New Figurative Works" ('04), "Interior
Passages ('04), "Rumors of Red ('05); "Carnivale" ('05); "The Color of Water" ('05); "Faces & Places" ('05); "Open Spaces" ("05).
Golden Oak Gallery (Saratoga, CA): "Plein Air California: Capturing the Light Within Form", premier show ofthe Verde Artist Guild; "Destinations of the Heart" ('04); "Sweet Dreams" ('04); "Our Precious Earth" ('04); "Waters of Life" ('05); "Coming Home" ('05).
Eriksen Gallery, "Small Wonders" Group Show, '04; "Winter Scapes", Group Show '05
Pacific Art League of Palo Alto: "Splash" '05, California Dream'n '05 (paintin g
selected for postcard); Full Spectrum (all about color), painting selected for postcard ('05); "Small Works", December 2 –January 8, 2004; "Mug Shots" (portraits, 8/03); "All about Paper" (4/03); "Small Works (2005, HONORABLE MENTION); "Face & Figure" (HONORABLE MENTION).
California Art Club Angel Island "Paint Out" 2004
Silicon Valley Open Studios, '03,04', '05); Open Studios Jurried "Star" 2004. Peninsula Open Studios ('03, '04).
I (and my painting) were featured on KOCE TV's coverage of the annual
Laguna Beach Plein Air Painters show (7/03)