I had a great day at Golden Gate Park yesterday, finishing two good studies.
This view is the other side of the Golden Gate Pavilion peace pagoda, that I painted last week. There are some color harmonies here that I'm really happy with, and likely to use in a larger painting. In particular the left third of the painting, particularly the reds, distant greens and roof-top tile greens. The bushes in bright sun to the right in front of the red beams that worked well too. I wonder if the red tree to the right needs a little bright greens in there? I kept the bushes–just about everything, actually–very loose. I think I'll go back to this spot tomorrow and try a larger canvas.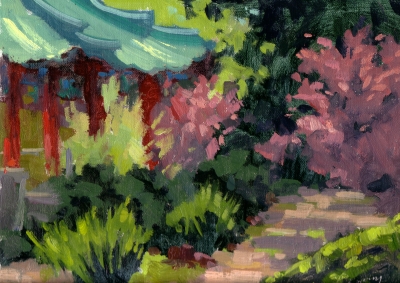 Golden Gate Pavilion – Oil on Linen – 9×12
This is the bridge that leads to Strawberry Hill in the middle of Stow Lake. Built in the 1890's, it survived the 1906 earthquake.

It was my first painting, a warm up I guess for the one above. I also want to repaint this as I feel the rocks lost a little too much definition. I wanted to keep it abstract–yet representational, I'm always seeking that balance. In terms of color, I'm happy with the green water, and in fact that flat area of color is really needed to support the complexity of the bridge above, otherwise, I think the composition would have been too busy.
One particular challenge was the right underside of the bridge, where the tunnel doesn't get direct sunlight, but reflected light from the water. I think this works well as painted, and in fact when I view the painting in grayscale it does read as expected. Nevertheless, I want to tackle this one again, perhaps this weekend.
Bridge to Strawberry Hill – Oil on Linen – 9×12
By the way, Gracie was with me all day. She had a blast following the tourists along the shore as they road the paddle boats around the lake, then chasing squirrels–her favorite pastime!