Looking through my reference photos last night, I can across photos of China Town, here in San Francisco. I did paint a plein air piece there a few months ago, but wasn't that happy with it. It can be difficult for me to simplify while out doors (the distractions: weather, tourists, pressure for time with the changing light, etc).  Being able to simplify and absorb the essence of a city scene is a critical skill.
One artist that does this particularly well is William Wray (see here, here and here). Like William, I'm a fan of the Russian painters, particularly Nicolai Fechin. His brushwork is amazing. Maybe, someday, I'll paint with that level of confidence. He combines that with his ability to see the beauty in any urban scene.
In any case, this painting is one step towards my goals to be a better painter. In light of that, I'm happy with it.  Enjoy!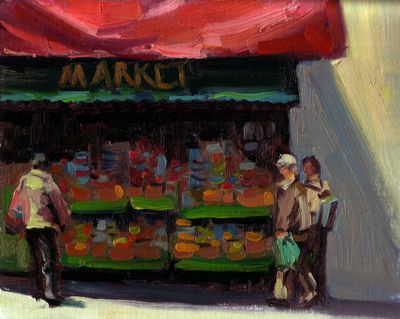 China Town Market – Oil on Linen – 8×10
AVAILABLE IN MY STORE