Wow, a great beautiful day today on the Sonoma coast! I did this study and another I'll post tomorrow. I hope to drive down to Monterey county to paint the next couple of days.
I spent a lot of time getting accurate color and value so I can make a larger version. I don't think this pushes color the way I like to in the studio, nor is it as loose as I'd like, but I do think it captured the scene well enough.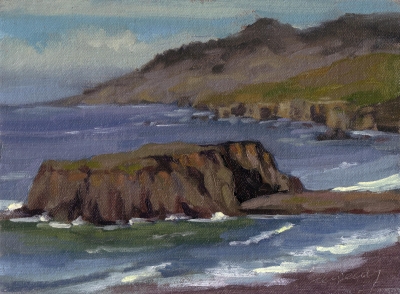 Sonoma Coast – Oil on Linen – 6×8
Here's my setup. This is my first week with my new 12×16″ OpenBoxM pochade box. I'm trying this one out instead of the Soltek…the later breaks too often.