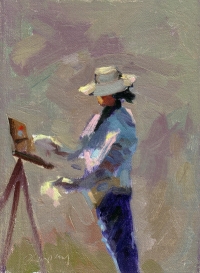 If you're reading this blog, chances are you're familiar with social networks, like Facebook, MySpace, etc. I've been following Facebook for a while (as part of my role at Wells), and think it has a lot of potential to connect people/groups in much more meaningful ways than MySpace. So, I've set up a group called "Plein Air Painters", and I'd love you to join us!
The group is focused on the art of painting "plein air", outdoors in natural light. For now, membership is restricted to plein air artists, of any level. This is a place to learn, make connections and share your experience. We'll be able to start online discussions, submit photos of paintings to share or critique, and list events–like shows, paint-outs, workshops, and so on.
Here's how to join:
If you're not a member of Facebook,
You'll then need to check your email for a confirmation from Facebook, click the link in the email to confirm with Facebook.
Click the "

Request to Join Group

" link on the right, below the painting.
If you are a member, click here to visit the group, then "Request to Join Group" link on the right, below the painting. Here's what the page will look like… See the link "Request to Join Group" under the painting, below right: