To prepare for studying the figure with Al Tofanelli (at l'Atelier aux Couleurs) I've been painting the figure from reference photos. It's going to be so great to paint from live models Friday! I like painting the figure, it's a real challenge, and I like to play with color. Mike has wonderful warm-violet skin tones. Once I laid in a solid drawing, I practically destroyed it early on with broad strokes of color (once you get a drawing right, don't worry, you can paint over it…it will always come back).
When I showed this to Mike, he really liked it, but he had a funny observation. It reminded him of the frescos in Italy (and most recently, Turkey/Istanbul). The eyes of those figures are somewhat exagerated, as I think his might be here. No matter, I was going for that spark of life and happiness, so why not exaggerate a bit?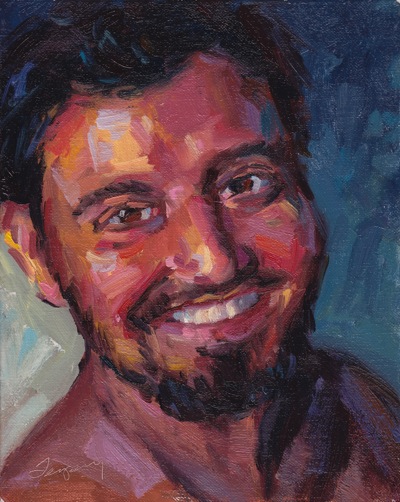 Inspiration? Separated at birth? Here's an example of a Pompeiii fresco that Mike thought of when he saw my painting. Smart man!