Still making progress. I'm learning a lot from Ovanes, such a generous teacher.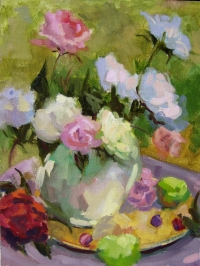 Today I focused on the area he asked me to work on: "raw color" (include more sophisticated grays, I need to build up to the color). I was able to create the strings of pure color and grays on my palette, but I think less successful doing the same on my canvas. He does mix a fair bit on the canvas, whereas I tend to like to place a stroke down and leave it, to avoid creating mud. Somehow he's able to mix on the canvas without creating a muddy mess. He commented that he generally doesn't mix a third/forth color in that process, and so avoids this problem. In any case, he pointed out in his first demo how you need neutral grays to provide a dim stage for the pure colors to really "pop" as the star attraction.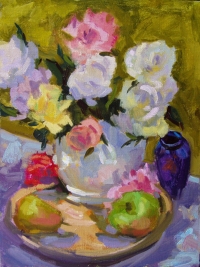 When he got to my canvas at the end of the day, he saw improvement in color, but found my brushwork disjoint, broken. I realized I wasn't mixing enough on the canvas, so will focus on this tomorrow, when we move from his orchard to paint on the Snake River, just down the road from his studio.
Hopefully, more progress then. Speaking of hope, Kumquat called to let me know my painting of Angel Island Harbour sold today! I'm on my way 🙂 and Mike gave me the okay to buy an Ovanes painting. I have my eye on a couple, one sunset, the other of a series of hilltop villages in what is probably Provence, but could be Italy. Cheers!