After more than three weeks of travel and painting, I decided to lay low last weekend, but nevertheless couldn't help setting up my easel to capture this scene.  Mike and I went to the annual Glass/Clay Festival in Palo Alto. We've gone for 15+ years now, and I frankly feel like I've seen it all!  Instead, while Mike + friends shopped, I set up in the public garden behind the event.
In this work, I'm exploring a technique that I think has some promise. I combine watercolor like washes with opaque oil paint, in both my dark and light under-painting.  For example, in this work, I under-painted the flowers with a bright Permanent Rose/Hansa Yellow-Orange Light wash.  This wash retains vibrant because the white undertone reflects light, just as would be the case with a watercolor painting.  I used a similar transparent wash for the bright greens, in two warm/cool variations: a blue-green of Magnesuim Blue and a yellow-green with Hansa Yellow Light and Cerulean Blue.  The background trees was painted first with a California Blue and Alizarin Crimson wash, alternating with a Sap Green and blue wash.  All transparent pigments.
I found that leaving the wash there in the flower area was really effective.  When I tried to match that vibrancy with a heavy, opaque mix, it was not nearly as vibrant.  Funny thing is, that is generally the antithesis of what most oil painters do: they lay on the heavy, rich opaque lights to make them pop, and while that is sometimes the best approach (I did this with my sky strokes), it's not always the most effective.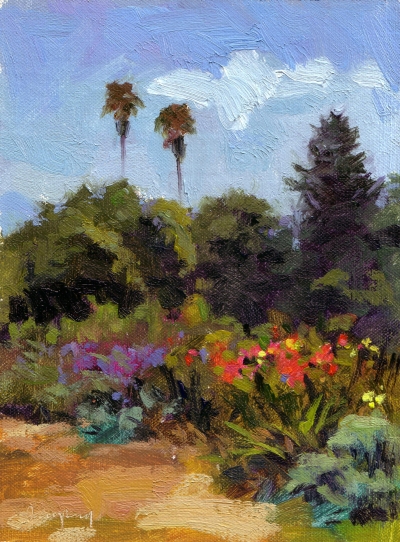 Palo Alto Public Gardens – Oil on Linen – 8×6″
I wrote about this Ovanes Berberian technique in this post last year. Enjoy!