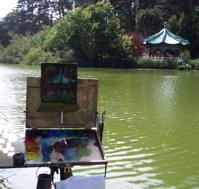 I painted the Golden Gate Pavillion peace pagoda (see comment below) today on Strawberry Hill, on the bank of Stow Lake in Golden Gate Park. There's a neat virtual tour of the structure here.
According to Wikipedia, a peace pagoda is a Buddhist stupa designed to provide a focus for people of all races and creeds to help unite them in their search for world peace. Nice. The structure is a gift from the people of Taipei to the city of San Francisco as a confirmation of friendship and cultural exchange between sister cities, and to commemorate the struggles and contribution of the early Chinese settlers in California. UPDATE [9-22] as pointed out by Alan Freebury of the Maitreya Institute, this structure isn't actually a peace pagoda, but I left the definition here for benefit of my readers. Please see his comment below.
This was fun to paint. A bit of a study in various greens, and balancing with reds. I a complementary color study. UPDATE: There's interest in my setup above, so if you click the picture, you'll find a closeup of just my equipment and palette.