My trek to Hearst Castle has started in Point Lobos, where I got two good days of painting in. Point Lobos is located just south of Carmel, CA, where all men wear khaki (only), and there's no one to give my spare change to (…coincidentally, the very first store you see on your way into town is called "Khaki"!).
Lucky me, the fog only started to roll in as I finished my last painting!  Tomorrow, I head for Big Sur for a couple days.  I ran into Carol Brightman Johnson, who is in town for next week's Carmel Art Festival.  Thanks, Carol, for taking this picture!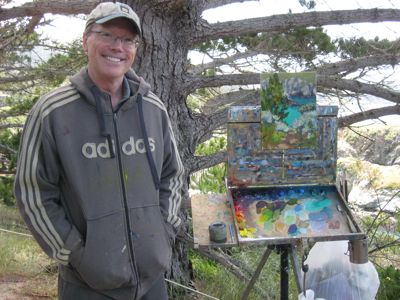 Here's my first effort.  I obviously pushed the color quite a bit in this one, and in fact, so far all my work this week is going there. I need to be careful about this, because I feel the paintings risk loosing balance, and start to look trite.  Tomorrow's forecast is cloudy-rain, so maybe I'll do a couple gray day studies to swing back to center a bit.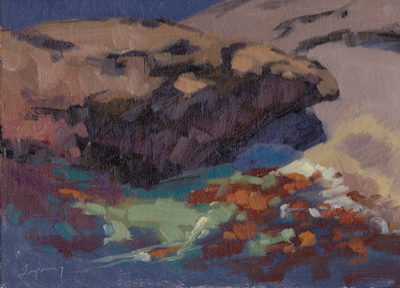 This quick study is much simpler. I focused on getting the color of the water right, which is pretty challenging here.
Point Lobos View, Oil on Linen, 8x10
Yes, I push color, but the turquoise green water in this painting is real.  In fact, I so wanted that color to be the focal point, I started the painting from there, and worked my way outward.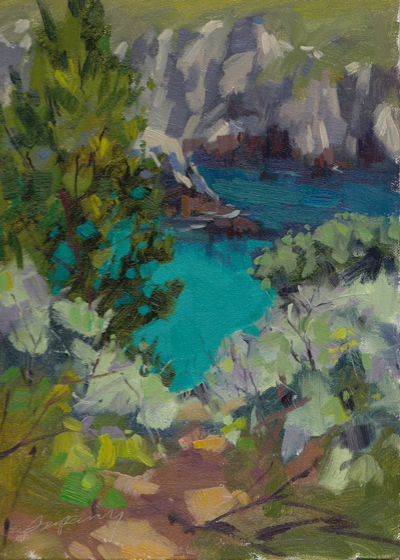 And finally, this is the last one of the day, and my personal favorite. The colors of white-ish bluffs in shadow are really fun to paint.  Lots of warm/cool color and interesting shapes.  The painting below reminds me of this one done at Montana del Oro for SLO a few years ago.