I was privileged to study with Randall Sexton at l'Atelier aux Couleurs, the Henche art academy in Petaluma this week.  The school is run by artist friends Carole Gray-Weihman and Al Tofanell, and is hosting a great line-up of teachers this year.  I'm going back to study with John Ebersberger in July and Peggi Kroll-Roberts in September.  It's great to take workshops locally and aoid the expense of travel.
I had a pretty mixed week.  Did a couple scrapers, and other days just didn't produce nearly as much as usually do.  The last day, Friday, I did a lot better.
I had fun with this study, really piling on the paint and using lots of direct, decisive brushwork. It's a simply study, but I'm happy with it.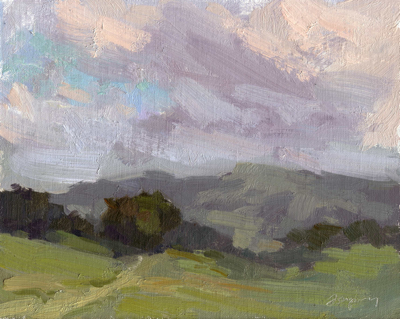 On Lee's Ranch, Oil on Linen, 8×10
I spent a lot of time working on this old Ford truck.  Painting cars is a lot like painting portraits: the proportions and drawing have to be just right. Randy thought at one point it was looking more like a Rambler than a Ford, so he pointed out some drawing mistakes that brought the painting back.  I'm happy with this one, because I was able to balance accurate drawing with the loose brushwork I'm striving for.  It can be difficult to strike that balance. I'm also happy with the color harmony here.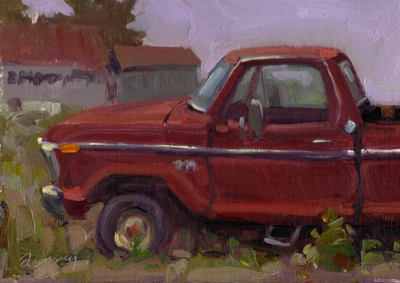 I think I painted this on Weds…it was 90+ degrees in Petaluma.  I had trouble finding something to paint. One of the things I'm working on is learning to simplify.  Painting an entire house is a challenge, so I found a more intimate scene, and kept it simple, focusing on light and value.  Randy called it "Hopper-esque", a nice complement.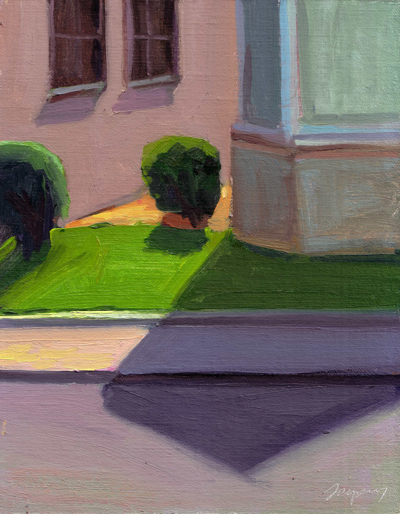 Simply Light & Shadow, Oil on Linen, 10×8
More to come!