Great news today! I found out (thanks to painting buddy Walter Porter) that my painting "Secluded Cove" has been selected by Don Demers as a Finalist in the Raymar Art Competition! You may recall that I painted it for my solo show last month in Pacific Grove, and even have a home-made video of the process. It was also featured in the local paper.  Here's what the judge wrote:
"This painting works because of its vibrant color use and it's calligraphy. i.e. the type of marks the artist has used in their technique. The feeling of the location was expressed through strong color and the subject was translated strongly by the artist through the use of the artist's technique. These strong elements of color and technique made a familiar subject the artist's own subject which transforms it into something new and more exciting." – Don Demers
Here's the painting. Wish me luck!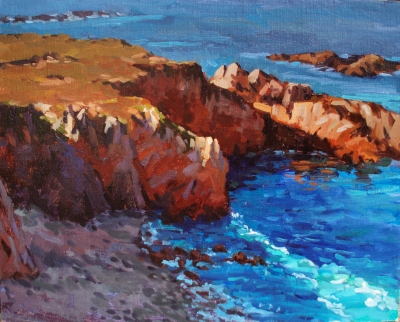 Secluded Cove – Oil on (RayMar!) Linen – 16×20″