The holiday weeks are a great time for me to paint.  It's a time of reflection, hope, appreciation of friends/family, and just general "good feeling".  I need the right, positive mindset to paint–and I think it shows in my work.  At least, it's the right start.
I painted this study in Ventura yesterday–it's just a camera phone shot, so quite a bit of glare, but you get the idea.  I like paintings like this with no sky, as it gives me a wider range of values for the land, and I don't have to worry about having the sky and ground be harmonious.  I can have more fun with local color.  Without knowing it, this became a study in complementary color, always an interesting color harmony.  One issue I have to think about in this study is the nearby hill in shadow (at the top of the painting) is too close to the green plants in shadow along the riverbed.  I probably should have studied more closely these colors and separated them by temperature or hue (see my March '07 post on "color separation").  It's unlikely these colors were this close.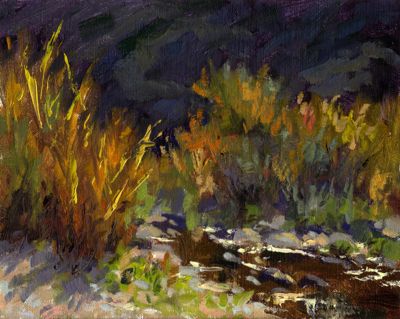 Ventura Riverbed, Oil on Linen, 8×10
This morning I painted with David Stonesifer and Marge Levine.  Marge is visiting the Bay Area from New Jersey, and emailed me a couple of days ago to see if we could paint together.  We met at the Palace of Fine Arts and had a good time painting–between the tourists.  There were hundreds of them in-and-out during the morning (bus loads), so it made it a bit of challenge, along with weather shifting from sun to clouds every 15 minutes.  But hey, that's plein air!  It's always a joy.
My first study was "a scraper" (wiped the canvas clean). I tried to follow the light back and forth, and it just didn't work.  I should have split my canvas in half, as Camille Przewodek always advises on days like today: one half for the scene in sun, the other is shade.  But good came of it.  As I was running out of time, I did a quick 20-minute study in hazy light. I kept it loose and simple, which often results in my best work.  Nothing spectacular here, but that's what studies are for: just capture and generalize the large value areas and keep the composition simple.