I'm pleased to announce that I've been accepted into the San Luis Obispo Plein Air Invitational 2006! I received the letter today. Here's a schedule of events. If you'll be in the area during that time, and would like to paint with me (or watch), let me know.
San Luis Obispo Plein Air Festival 2006. Schedule of events:
October 2-7. Watch plein air painters paint the area landscape.
October 7, 9:30-11:30am. Quick Draw competition at the Mission Plaza grounds
October 7, 11:30-1:00pm. QuickDraw live auction
October 7, 6pm. Reception at the San Luis Obispo Art Center.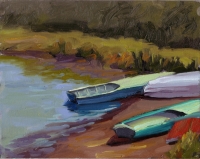 Morro Bay Boats, Oil, 8×10″