As written before in this blog, I've been working part time for Wells Fargo in San Francisco. I started their first blogging team about 6 months ago now. Luckily, during the past 6 months we had incredibly bad weather, which allowed me to not feel so bad about missing the plein air painting experience. Now that the "painting season" has returned, it's time for me to return full force. The challenge I have now is time (it used to be money, there's a lot of truth behind "the starving artist" ;-)). As much as I'd like to, I can't do it all. So, I've decided to refocus myself. Other than gallery and show commitments already made (Kumquat Gallery, San Luis Obispo, Estes Park, Pheonix Gallery Topeka – yikes, this is a lot), I'm not going to focus on sales, but rather just simply becoming a better painter. That's where the joy is, after all–and I do actually really enjoy my job at Wells.
Less shows means that I intend to drop out of Viewpoints Gallery in Los Altos. They've been great for me when my focus was sales, but they're an incredible time sync. I spend about 4 full days/month there. Since I'm traveling one full week per month between now and October (all for art stuff), it becomes even more so. I want those 4 days for painting. I'm going to give my notice now, and I think there's at least a month long transition process, so I'll probably be there at least through July 1. We'll see.
So, as I focus, look for more updates here (I'll have more time), but more importantly, exciting new directions in my painting. Cheers!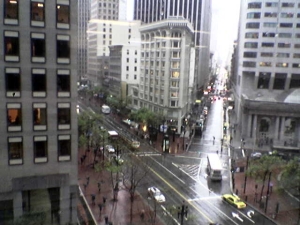 View from my Wells Fargo cube, 525 Market Street