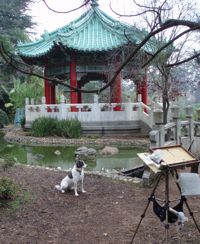 When I paint plein air, it's most often a race against time, weather, bugs, tourists and kids (similar to bugs :-). Yesterday, Gracie and I set up again at Golden Gate Pavilion, at on Strawberry Hill in Golden Gate Park. I've completed a couple of paintings of this structure (here and here). I like it because it offers nice spots of color sourounded by subtle grays and greens.
It was overcast, a condition I welcome because it will mean the light will not shift much–one less thing to worry about!
But, alas, it started raining. We waited it out for a while, and luckily I'd brought a thermous of Good Earth Spiced Tea. Gracie and I hung out in the shelter of the pavilion. It didn't clear up (got worse), so we headed home to keep Mike company.
I'm glad this painting was interupted. I often go "to far" in a painting, spending too much time and attention to detail. My direction continues to learn to paint more freely, expressive, more towards abstract but with moving color. I feel I'm still learning to apply the teachings of Skip Whicomb, learning to focus my values and to work with grays more effectively. I may or may not "finish" this. Maybe this is it?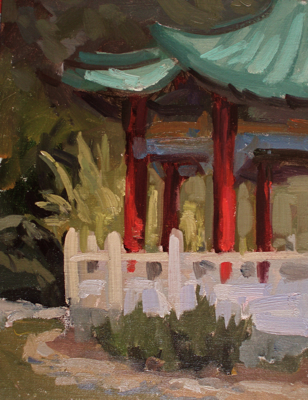 Golden Gate Pavilion (unfinished) – Oil on Linen – 14×11″

.