The small town of Ojai is (pronounced /?o?ha?/) is a city in Ventura County, California.  The city was founded as Nordhoff, until the time leading up to World War I, when anti-German sentiment was high.  Ojai is a Chumash word meaning "Valley of the Moon". It should be called "Valley of the Stars", because Ojai is just close enough to Los Angeles (and beautiful enough) to attract lots of celebrity residents. Check out the list of "Noted Residents" in Wikipedia, which includes Anthony Hopkins, Jake Gyllenhaal, Johnny Cash, Tim Burton, and Howard Hughes, listed as an industrialist, who attended The Thacher School. In fact, just last week, this pic of Jake Gyllenhaal and Robert Downey Jr. was taken in the hiking trails around Ojai.  But the only connection between Ojai's celebrity and my painting is mentioned in the movie Thirteen, when Evie's aunt declares that she and her niece are moving to Ojai so Evie "won't get in any more trouble."  It is a place of quiet beauty.
This was painted in my studio from a reference photo, but luckily the scene was fresh in my mind as I did paint this riverbed study their "en plein air".  I did strugle somewhat with the large tree that stands as the center of interest.  As I wrote about in my cloud studies post recently, I'm working on making every object three dimensional. I want the viewer to feel they could virtually walk around this tree, and know what the back side is like. What do you think?  Any tips?
This reminds me of something Camille Przewodek said.  She's been focusing on the figure lately, and has been studying with the great master Jove Wang.  Her figures had form, but they were not quite 3-dimensional. Jove taught her that when painting the figure, you need to indicate the complete form, even that not seen.  When you paint a head, you need to show how the back of the head is formed. I have NO IDEA how to do this, but it's just another reason why I need to study with Jove Wang someday.
Speaking of studying, I just signed up for a workshop with painter Kevin Weckbach at the Scottsdale Artists School in late February. I'll try and blog it (with his permission). I really like the quality of abstraction and paint in his work (see galleries 1, 2, 3 and 4). I especially like these two: Glasses for Two and Red Spruce).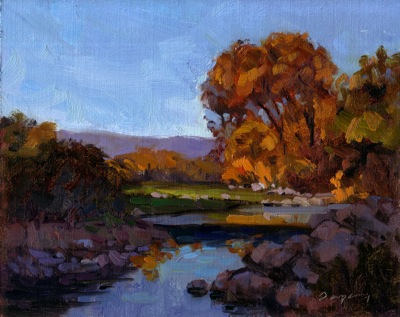 Ventura River, near Ojai – Oil on Linen – 8×10″
AVAILABLE IN MY STORE