Yesterday was an absolutely perfect day to paint.  The light could not have been clearer. It was an orange-yellow, which made the most perfect blue-violet shadows (shadow colors are generally complementary to the color of light).  This is the type of light/shadow that clearly inspired the French impressionists. In fact, while painting, I was reminded of the summer I spent painting in Provence–the light was THAT clear.
I set up in the Temple of Music courtyard, which was constructed with the first M.H. de Young Museum as the Grand Court for the 1894 California Mid-winter International Exposition. The bandstand has a band that plays April – October (126th season!).
This was my first effort. The tops of the trees had a wonderful warm glow, and the fountain was fun to paint, too. I tried to keep the bandstand itself subtle, falling back in space so the fountain and tree tops could lead the eye.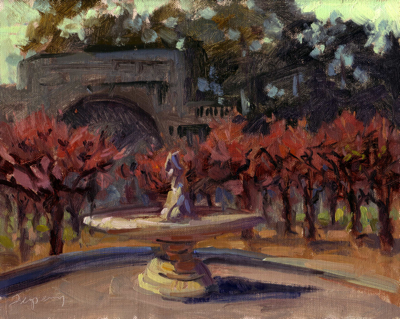 Golden Gate Park Music Concourse, Oil on Linen, 8×10″
AVAILABLE IN MY STORE
I then set up with the light between me and these two trees. Definitely had fun with the light/shadow in this one.  Hurray for sunny days in San Francisco!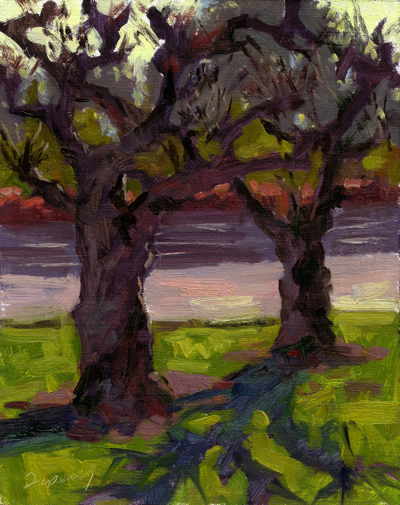 Winter London Plane Trees, Oil on Linen, 10×8″
AVAILABLE IN MY STORE