A couple weeks ago I started another painting of the Golden Gate Pavilion. Gracie and I went back there today to work on it again. Gracie was nice enough to keep the squirrels clear, while I focused on how to finish the work. I really liked the initial painting, and thought about keeping it as is, but thought it worthwhile to come back again around the same time of day and see if I could say more with the piece.
The sunny weather today was much different from the day I started the painting, when it was quite overcast and gray, but I liked the light effect so decided to give it a try.
The tree I was painting under cast some wonderful dappled light and shadow on the structure, and the light on the Chinese Red beams was clearly delineated. I'm happy with this one! This is available for purchase on my online store, in the San Francisco section (or click the buy link below).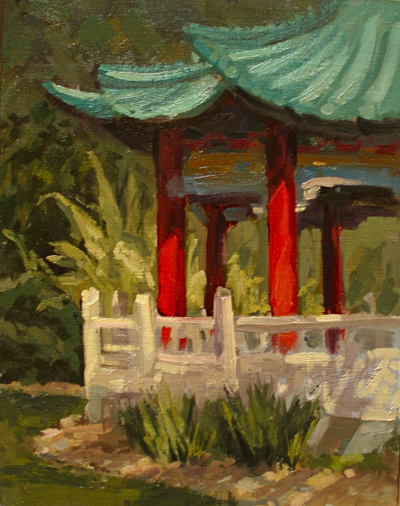 Golden Gate Pavilion
Oil on Linen, 14×11
Here's a side-by-side of the initial and final painting, so you'll get an idea of what I changed.