Yes, the weatherman lied yet again. A "partly cloudy" forecast ended up some sun, with lots of fog. Oh well. In the end, I'm happy with today because comparing a painting done on a gray day with one on a sunny day is a good lesson.
I'm sure you've heard artists say, "I paint the light". The color and quality of light effects everything we see. My favorite light is late afternoon, least favorite gray days–but each is a learning experience.
Here's today Ice Plant painting done on a gray day, compare with the one below it down in late afternoon.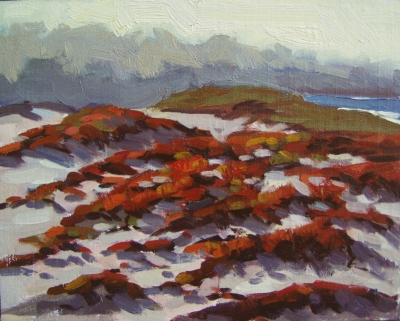 Ice Plant (Gray Day) – Oil on Linen – 8×10″
Here's a side-by-side comparison.
This reminds me of a book on this subject, Kevin Macpherson's "Reflections on a Pond".  Kevin pained the same scene outside his dining room window hundreds of times.  The variety of the images is incredibly striking.  Well worth picking it up from his site.