The other day I wrote about painting with the "brush in front" technqiue.  I use this to get accurate color/value.  The paitning is now dry, so I was able to get a digital scan to post.  These scans (I use a Cannon Scan Lidi 20, about $60!) are much more accurate than taking a digital photo.
I used a lot of paint in this picture, a lot of it the muds I keep in the corner of my palette (green, red, blue piles of left over paint).  I'm really happy with some of the details, and would to paint an entire painting with this level of bravoro. I love the "painting within a painting", ie, the fun abstract detailed strokes that make up a realistic image at a distance.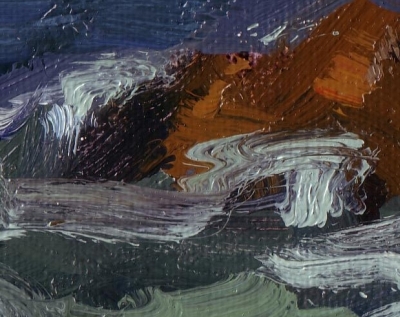 Rocks & Surf (Pacific Grove) Detail
On another topic, the more I look at the Ice Plant study I did the other day, the more I like it.  So, tomorrow I'm off to Pacific Grove and the same spot to paint a larger version (16×20″). I need a piece like this for the Laguna Plein Air Painters Association (LPAPA) "Best of Plein Air" show in March.  If you happen to be in Pacific Grove tomorrow, I'll be on Sunset Drive, where it forks just past the lighthouse.  Join me!