I have one more day of painting tomorrow for the San Luis Obispo Plein Air show opening Friday, but I need your help. I must select my top three paintings for the show. I've posted the first 6 I've painted this week.  What do you think, which should I choose for my top 3?  Do you have a favorite? You can vote here, and read more about these images (and see larger versions) below the poll box.

[polldaddy poll=2062321]
I did this one this morning. After spending 3 days at this site, I was able to more quickly capture accurate color. This was painted in the early morning, and the shadow of the white-water in the arched cave was my center of interest. I made it the most intense color in the painting, and plated my lightest light and darkest dark there (and old trick!). I wonder if this is too simple?  I do think it's important to simplify, but perhaps I should have more eye candy here.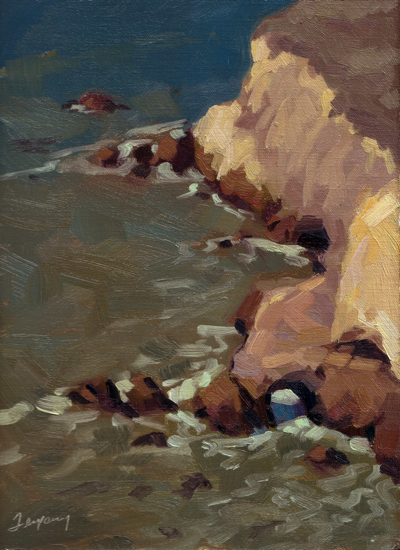 I love painting in the late afternoon, but I have to paint incredibly fast, given the quickly shifting sun.  In this painting, I focused on the planes of the rock, and tried to carefully differentiate the colors of planes against all the other colors in the painting. I think it captures a good sense of light, but wonder if it's too colorful?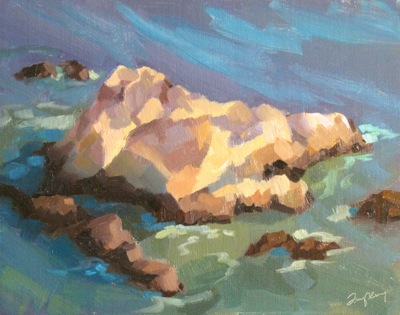 This was a fun one!  Again, I focused on the planes of rock (I guess the Peggi Kroll-Roberts workshop at l'Atelier aux Couleurs has really influenced me!) and color separation. Yes, I could have softened some edges here, but I like the frank, directness of it. It's also nearly abstract, whici I like as well.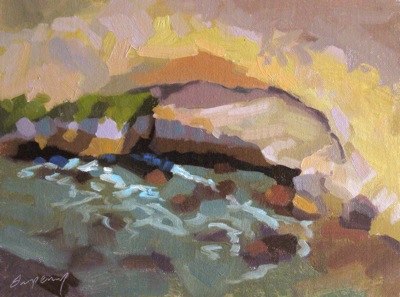 This was a quick morning study of the bluffs. I think I lost control of some of the color effects, and frankly started making things up!  While it's true in the end we have to make a painting and not a direct representation, I feel this could have had a stronger foundation.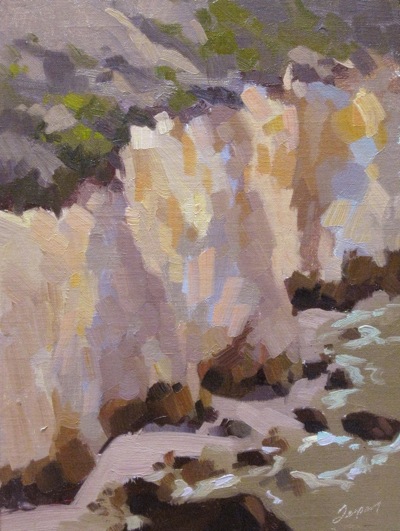 This was my first painting of the trip.  Monday morning the fog and overcast sky continued until well after 2pm.  The good news is, that means a nice steady stream of consistent light!  Of course the bad news is you lack the kind of dramatic shadows that can make a painting have force.  I was happy with the delicate tones of the rocks here, and think it captures that calm morning.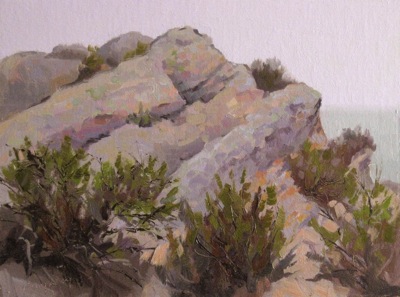 More late afternoon light painting. I really had to paint this quickly, and had to contend with some onlookers asking questions (which actually wasn't bad, it's nice to have people appreciate what you do).  I'm just not sure either way on this one, and think it may be among the weaker paintings.  What do you think?