This is the second painting I did Saturday (here's the first). I'm really happy with with it, although I'm not sure it "reads" as it should. Of course they're bluffs, with the sea and a sandy beach just behind. Somehow it feels a bit titled…but I painted it as it was.
One thing to note is the water color. The sun was blinding bright behind the cliffs. I used white tinted with a bit of Hansa Yellow. I find that color combination is the most "sun filled" color I can create, much more than pure white.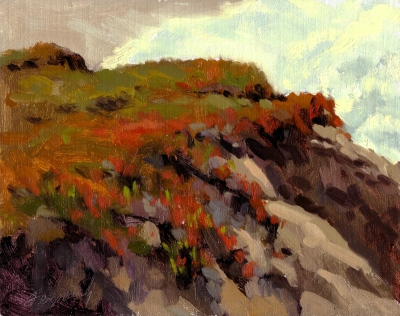 Ice Plant – Oil on Linen – 8×10
I'm not sure when I'll be able to update this blog. I'm working on a "Top 10 Observations", things I've learned about painting.  I'll publish the first (at least) sometime during the holidays, and I'm painting in Ventura County then the Russian River area between now and New Years, so look for those paintings coming soon!