I painted a couple of quick studies Saturday while selling my week's work in Jackson Park.  The crowd was small, but appreciative. I did end up selling two paintings, so not bad.  Unfortunately, I really misjudged how much display space I would have, so ended up under-painting for the event.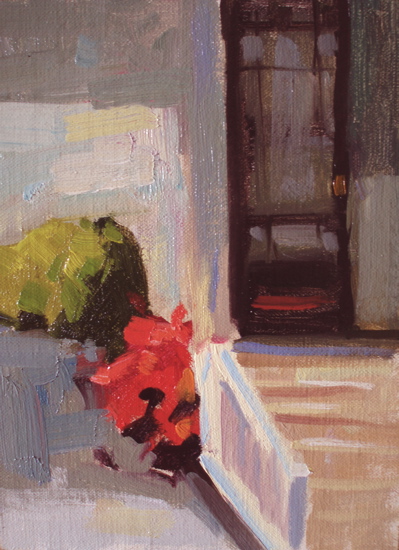 Jackson Park Doorway Study, Oil on Linen, 8×6″ 
I hate to be negative (here it comes), but I think I'm getting burned out by these plein air shows.  In the beginning, they were a terrific way to get my name out there, meet other artists, and get basic experience selling, but lately, they seem like a chore.  I also feel I keep painting for show after show, constrained by the location I have to paint, which limits my creative choices. I want to work on a series of paintings of Buena Vista Park, or other ideas which I define and control.  So, I think I'm going to either stop doing these next year, or scale back considerably.
Is this a "step up"?  I'm not sure.  I hope the results show it is 🙂  Cheers!