Last Sunday was a beautiful day for walking, and the far western edge of San Francisco (known as "Lands End") was striking the last hour of the day ("Golden Hour"). A couple of things attracted me to this scene: the light, subject (Monterey Cypress trees, my favorite!) and the shapes made for an interested composition.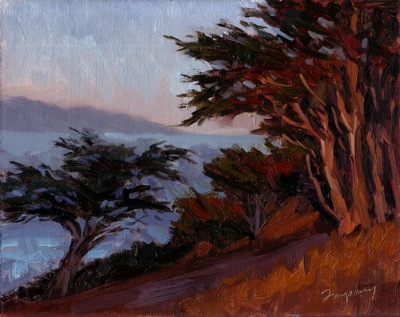 Lands End (Golden Hour) – Oil on Linen – 8×10
AVAILABLE IN MY STORE 
Below, you'll see the reference photo.  Notice I edited out a few things. An artist's ability to edit his own ideas is an incredibly key skill. A work that tries to communicate too many ideas, ends up communicating nothing.  Any Project Runway fans out there?   You hear the judges warning contestant designers about editing their own ideas all the time. It's evident when a model comes down the runway whether or not the designer is able to focus on a single, powerful idea, or whether they're show-boating, and throwing in every technique they're capable of.
The Golden Gate Bridge is one obvious omission.  I tried putting it in, but, it didn't work. As a man-made object, it drew a lot of attention, and it's too small and not a good shape or position to be the center-of-interest, so why lead the eye there?  Second, if the scale of the painting where larger (this is an 8×10 study), I may have been able to get it to work, but at this size, it's difficult to paint a structure like that and maintain the loose brushwork.  I would have had to use a small brush, and the texture alone would have detracted from the texture in the rest of the painting.
I really like the photos I took that day, so I'll definitely paint more, larger works in this vein.