Here's another study of "Lands End" (Golden Hour) I started in my previous post.  I created a video of the process, by stringing together still photographs of various stages of the painting.  I like this composition.  The large tree reflects the strength and gracefulness of the Monterey Cypress, but I'm not sure about my darks…they may be too dark.  I may try another study today where I play with that a bit.  Painting dark darks provides nice contrast with light (which I clearly needed here), but it can also make the painting too "heavy".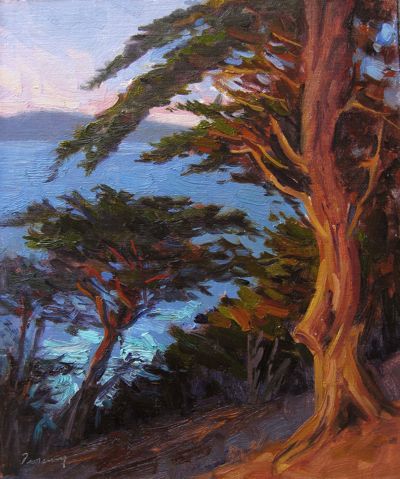 Lands End (Golden Hour) #2 – Oil on Linen – 12×10
AVAILABLE IN MY STORE 
Click this screen shot to get the demo (be sure and click "watch in high quality" in the lower right corner of the video, a new YouTube feature.