Still painting with a knife, and really enjoying the process (unlike poor Cristy Anspach, who wrote a very funny comment on a previous post about painting with a knife).  Laura Reilly and Bill Guffy also chimed in with their comments and positive experiences.
This is keeping me loose, keeping colors clean, and just a physical challenge. Imagine holding a paint brush for the first time, learning how to maneuver it.  Same with a knife–although, according to John Ebersberger, my knifes are soft enough.  Apparently, his are as soft and flexible as a brush.  He said I need to file mine down.
This first study was from a reference photo of Casa Cosmos, our favorite vacation home getaway in Mexico (see here for other paintings: Casa Cosmos Sunset 3, Sunset Calm, Sunset 2)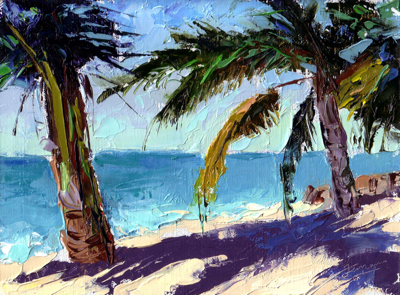 SOLD
I named this painting "Truckee River"…I think that's right, although it may be Blackwood Canyon, another favorite spot of mine in Lake Tahoe.  I'm really happy with this one, so it could end become a larger studio work, although I'm not sure how large a painting I can do with a knife.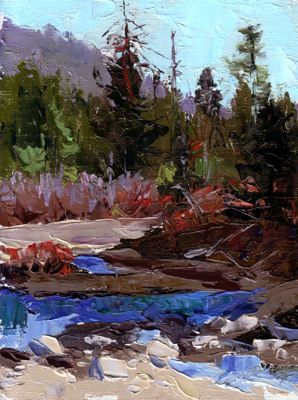 If you paint with a knife, and would like to share your work, enter a comment and share with me and my readers.  Cheers!