I had fun with this one!  Got to paint with transparent darks (in the shadowed rocks and dark water) and calligraphic brushstrokes; rocks, ice plant, water–all favorite subjects!  And, there is a video!  However, I'm out of town this week, and don't have my regular MacBook, so the video will have to wait until this upcoming weekend when I get home. Check back then and see this painting being developed start to finish.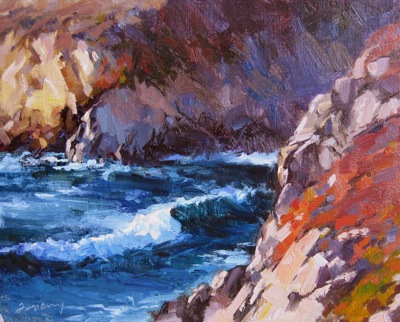 Near Garrapata State Park, Oil on Linen, 11×14
AVAILABLE IN MY STORE
This painting is titled "near" Garrapata State Park, because I'm not 100% sure of exactly where it is. I actually think the reference photo is between Garrapata and Point Lobos. I'm itching to get back out there to paint plein air.  I have the end of next week off, so–if the weather cooperates–I'll paint for a couple days. If I do, and you're a painter and want to join me, I'll update my Twitter feed, so do subscribe.