I am leaving Sunday on a 3 week trip that will start with attending a workshop with Ovanes Berberian, proceed to New York where I will be presenting at the Forrester Research Finance Forum, and end in Colorado for Telluride Plein Air 2007. It's going to be a very busy trip, and I am definitely relying on FedEx Ground to get my art supplies from point A to point B on time!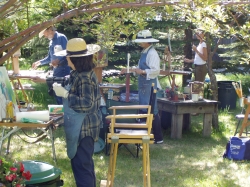 Just as I blogged daily from my workshop with Gay Faulkenberry, and as I did in last year's Ovanes workshop, I intend to blog daily–showing my progress, studies, and any tips I learn from Ovanes.  Last year's workshop was amazing, and I'm excited to go back, having made progress since then.  Please check in next week, starting June 18th, and take a "virtual workshop" with me.
The New York visit will be brief (2 days). I am speaking on a panel with Wesabe founder and CEO Jason Knight.  I'm a big fan of Wesabe–basically, a "Quicken for Web 2.0". It's a very cool tool, check it out.
Telluride Plein Air will be a bit stressful…it's my first year there, and it's among the most prestigeous plein air shows in the country.  I also don't have much time, basically 3 and a half days to paint 8-10 paintings for the show!  Luckily, I'll have just come off a week long workshop, so I should be warmed up and ready.  Again, I'll blog daily from there, just as I did at last year's San Luis Obispol Plein Air show. I'll ask my community of readers here to help me decide again which paintings to put in the show.  You've been great at helping pick the winners!