Fellow art blogger Peter Yesis has come up with an innovative program. Like most artists, Peter collects. It gets expensive, especially when you have the taste of an artist. Peter's idea is to trade a piece–monthly–amongst the collection of worldwide daily artist bloggers. I love this idea. Of course I've traded before, but doing so in this open network widens the possibilities.
So Peter, here's my work for yours. Let me know what you think.
I will tend to post "painters paintings" for trade, those pieces that typically only other painters "get" (sorry, if you're a collector, you have good taste too…just sometimes slightly different from one who's covered in paint day to day…maybe it's the lead 😉 For me, this piece is about sculting rock with paint. I had fun with the wonderful color variations of the rocks and fauna. I had a good day. My sister, Elizabeth, was visiting me from Lincoln, Nebraska (hey, Peter's from Nebraska too…is it kismet?).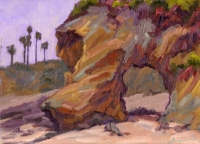 Key Hole Rock (Laguna Beach) – Oil on Linen – 9×12