Today Peggi Kroll-Roberts focused on the structure of the head.  If you think of the head as a structure of planes, it becomes easier to paint. Each plane has a relative size, shape and direction.  The direction (facing up, down, towards light, away from light) gives you clues about how it should look.  For example, planes that face down towards a green shirt, will have reflected green light; planes facing the sky outdoors, will reflect blue on a clear day.
Here's a video of Peggi explaining her approach, and the measures she uses to structure the head.  Peggi will emphasize that these are not rules, but guidelines.  The reality is that when you're facing with a model, they're rarely going to be facing you straight on at eye level–but you can transpose these rules to heads that are tilted, swiveled, etc.  The bottom line is you need to learn to see and draw accurately.  There are no short-cuts.
Here are my own head studies from the day.  So we could focus on fewer variables, the first few studies where done mono-chromatically.  By the end of the day, I had time to do one study in color.
Monochromatic Head Study 1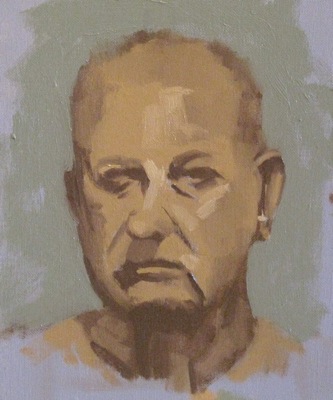 And finally, a study in color!
Color Head Study 1
Be sure to visit at l'Atelier aux Couleurs for a list of upcoming workshops.  They have some great teachers!