My last day at San Luis Obispo Plein Air, I had a relaxing morning and just painted for the fun of it. I needed that, because unfortunately, painting for these competitions can be a bit stressful…a bit like painting a commission–only 6-10 in a single week!
I continue to have fun with the texture of paint, piling it on here and doing lots of re-evaluating, and adjusting.  Sometimes it's best to paint a stroke and leave it, but other times, it's fun to continue refinement and use more paint, layer by layer.  That's what I did here.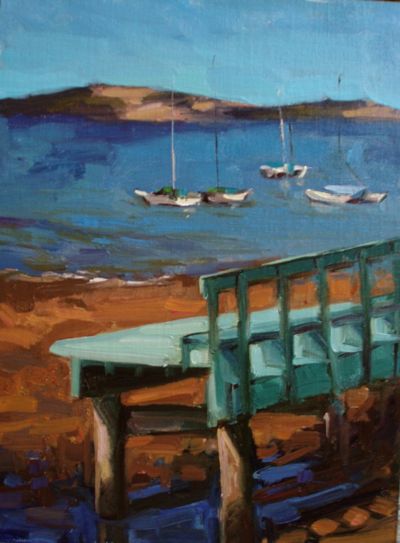 Baywood Park Pier (Los Osos) – Oil on Linen – 16×12
Tomorrow, I think I'll paint in Golden Gate Park again, perhaps the area around Stowe Lake.  I've some good luck there in the past, painting the Golden Gate Pavilion (here, and here).