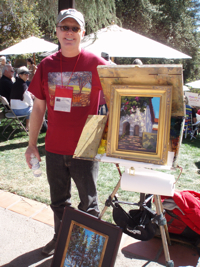 We had perfect weather for today's Quickdraw event at San Luis Obispo Plein Air.  As happens in many events like these, there was a mix of adult part-time, learning artists and collectors.  I gave away lots of cards, advice to early artists and set up a snow scene near my easel so passerby would see my finished work at a larger scale.  You know how paintings go through an "ugly stage" at the beginning (not unlike newborn babies…parents excepted :-)….I didn't want a collector to see that and walk on. I think it worked.  I got lots of praise for "Thanksgiving Day Snow", which I painted plein air last November.  But alas, no buyers.
I struggled with my painting of the mission for a while, and about half way through the two hours thought that I may not be able to pull it off. Panic.  After scraping a section that wasn't working (and simplifying…always think about simplifying areas that aren't coming together), was able to finish something I was very happy with.
Luckily, a wedding was held in the mission church that day, so given I painted a view of the door and steps–complete with wedding garland–I had a nice little bidding war for the piece. I sold for a respectable price to a member of the wedding party.
No luck later that night, however, at the reception's silent auction. I've doubled my prices from last year, but don't think that was the problem as paintings next to mine at 1/4 the price didn't sell either.  Sales were terrible.  Following the auction, which didn't seem nearly as successful as last year, someone mentioned "we're definitely in a recession". I don't know if "The Fed" would agree, but let's face, art's one of the first things to go when you're thinking about your mortgage payment going up and whether your job will be there if a recession does hit.
Oh well. I'm just honored to be here and meet so many talented artists and truly wonderful, giving people.
We'll see, maybe sales tomorrrow, the last day of the show. I'm painting Morro Bay in the morning for the joy of it.  No competition or sales worries, just painting.