I'm out of the chaos of New York City and in laid-back Telluride, Colorado today. The flight in from Denver was a very small prop plane, and while I don't feel completely safe in them I did get a great view of the surrounding areas to paint. There's a lot here: red rock canyons, meadows, steep mountain peaks (with just a bit of snow left) and a colorful downtown. The town is really beautiful.
I had to leave NYC at 4am this morning, so was pretty tired by the time I got here. Only one painting done, which is more than I'd planned actually since we weren't supposed to have our canvases stamped for the show until tomorrow. I'm ready!
There are many colorful alleyways in town, and it's possible to compose paintings with glimpses of the surrounding terrian. Here's one I did today. I realized later that I didn't photograph the final painting, but this is close enough.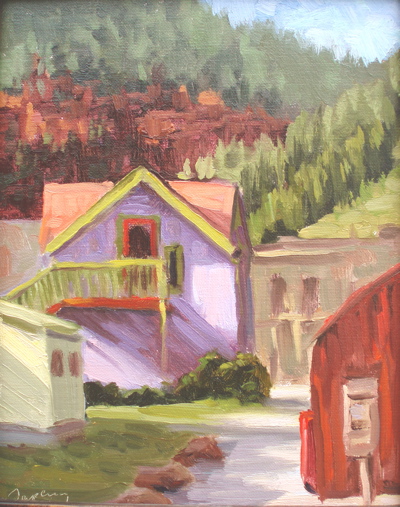 Telluride Alley – Oil on Linen – 10×8″ (AVAILABLE)
By the way, as I've done during other plein air competitions like this one, I'm going to post the final completing paintings, and ask for your help to pick the best. Apparently, I can only submit one to the competition, whereas all the paintings can be hung in the show July 3/4. Thanks in advance for your help!