Started the day by just exploring, no particular destination. After getting a feel for the area, I decided to find a North-facing view with water, so I could paint a combination of shadows and light. I ended up at Alta Lake, a lake accessible through 5 miles of offroad. Before you reach the lake, you drive through an old mining town.
I did this first painting in the morning. I'm pretty happy with this one. I think it conveys a good sense of the morning light.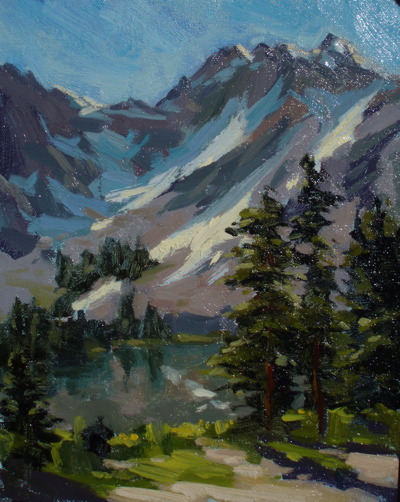 Alta Lake #2 – Oil on Linen – 10×8 (SOLD)

This was my second effort. I focused on the sky and clouds (a favorite subject), and tried to keep the trees and hills secondary. It surprises me how dark the sky is at this altitude. I used Ultramarine Blue and a little Permanent Rose. The color turned out well, but I had to add too much white, so next time I'll start with Cobalt Blue with Permanent Rose, since it's already in about the right value.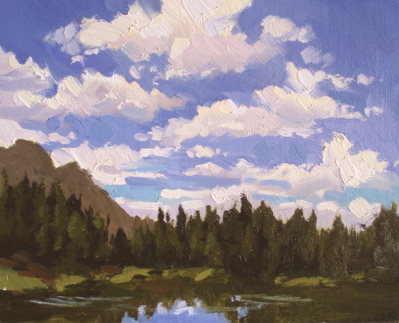 Alta Lake #1 – Oil on Linen – 8×10 (AVAILABLE)

After completing these two, I checked the map again and noticed that another lake was nearby. Trout Lake was much more accessible, less than a mile off the main road. When I got there, two painters who allowed me to share their shade. I began this painting with rich washes of transparent color, alternating Sap Green, Ultramarine Deep, and Veridian Green. The top of the highest peak had this wonderful red/orange color, and kept alternating between shadow and light. I waited for the light to put in the color you see. Even though there are reds there, I think it falls back okay. That was a concern. The clouds cast shadows on the trees, which made for a nice separation of values.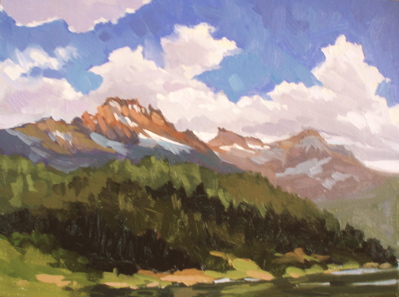 Trout Lake – Oil on Linen – 12×16 (AVAILABLE)

Since this is a competition, please offer your opinion of these paintings. Thanks!