In today's Quickdraw event, we had 90 minutes to complete a painting, while standing on the main street in Telluride (Colorado Ave). Yes, there's some pressure, but it was actually pretty fun. I've done enough of these contests now to know what to expect, so I was pretty relaxed, chatting with people as they walked on by. I had just enough time to finish my painting.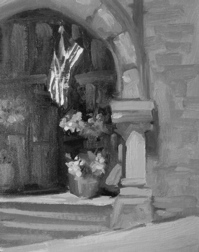 Given the ample shade on the north side of Fir Street, I set up there again (as I did yesterday, when I painted in the opposite direction, towards the bakery). I'd painted the same building yesterday in the late afternoon, so I had fresh knowledge of its architecture, which certainly helps when you only have 90 minutes.
I'm very happy with the result. I brought the painting back to the Opera House for the sale, and it sold about 5 minutes later! There was a First Place prize awarded to Randall Sexton, who–if you don't know him–is an awesome painter and teacher.
This painting was a good color study…representing the various warm colors here, from yellow to dark red. I wanted to check the values of the work, so created the black and white version above. If your painting reads well in black and white, it almost doesn't matter what colors you use, the painting will work.
I'm not sure where I'm off to today….I think the peak from the town gondola again. Awesome views up there. Until then!