Vahona Plein Air is a short, three day paint-out for which I only need to paint 3 paintings. I did well today, painted two good ones. If I can get one more done tomorrow, I can skip Sunday (and just come to the reception at 4).
Both of these were painted on the same street, a half a block apart. Between the two I took a lunch break a drove around the area–only to return to the same street! I guess I am enjoying painting architecture lately, particularly doors/windows with plants, usually bougainvillea, which is in bloom everywhere in California.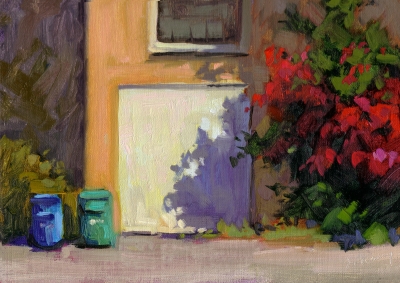 "Trash Day" – Oil on Linen – 9×12″
The reds don't look right in the photograph above. I've come to the conclusion that I need a new camera!