I painted this Sunday in my studio from a digital image I captured in Telluride last month, projected on my MacBook screen.  I just love the color harmonies of forests and exposed red rock.
I'm very happy with this painting, which I'll probably paint larger.  I painted 90% of it without my glasses, which again is a great way to abstract out a scene and focus on color, value and composition.  Damn the details!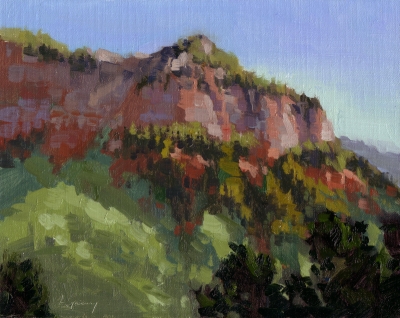 Telluride Valley, Oil on Linen, 8×10 (AVAILABLE)

Do you feel the light on the grasses on the hillside, the forest and cliffs?  I hope so.  Enjoy!