We started the day reviewing a slide show that Gay had prepared, including works by her teacher Serge Bongard. I completed two in-class studios and one quick painting after class. I couldn't get a good photograph of the first study, so haven't posted that one. Here are the other two.
Plums and flowers: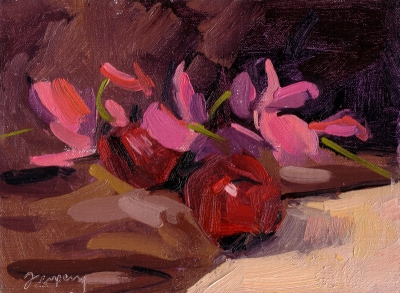 Red Still Life – Oil on Linen – 6×8 – SOLD
I did this quick study of cactus outside of town. I've never painted cactus before. I need to figure out their "gesture", that is, the movement and shapes that make a cactus a cactus. This allows me to abstract out objects.