We're having incredible weather this week in San Francisco!  I crossed the street yesterday to Buena Visa Park the oldest park in San Francisco on a great hill in the center of the city.  I hiked up near the top, where this great view of the bay and neighborhoods below made for a nice light backdrop for the shapes of the Monterey Cypress trees.  I think this will make a nice larger work.
A couple of things to note in his painting: 1) The city below is abstract, just dots of mostly warm colors, with an occasional blue green to represent distant parks/trees. The city was fun to paint, as I could place dots of color in a way that's both pleasing, and reads well from a distance. 2) When painting the sky, I not only need to represent the value change from bottom (lighter, warmer) to top zenith (darker), but also from right to left.  In this painting, the sun was on the right, so the sky is also lighter there. 3) One very difficult transition was from the distant hills to the bay.  The values needed to be very close, so I needed to show the difference between water and land with a slight color shift.
I'm very happy with this, although if i paint larger, I think I will alter the trees in the lower right, and make a more dramatic slope, to better give the feel of height of the park.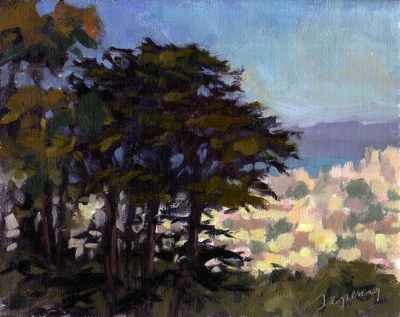 View from Buena Vista Park – Oil on Linen – 8×10
AVAILABLE IN MY STORE