Palm trees were made to paint–the palms a perfect brush stroke. I'm on my way to Palm Springs for a workshop with Mark Kerckhoff, stopping to paint where it strikes me. This morning I stopped at Refugio State Beach, between Buelton and Santa Barbara. I wanted to paint there all morning, but needed to time my driving carefully to get through LA between traffic jams.
Here's today's setup. This is a 12×16″ OpenBoxM lightweight box, with lots of paint. I've started experimenting with a couple of variations of violet, including Mauve Blue Shade (Windsor Newton) and Magenta.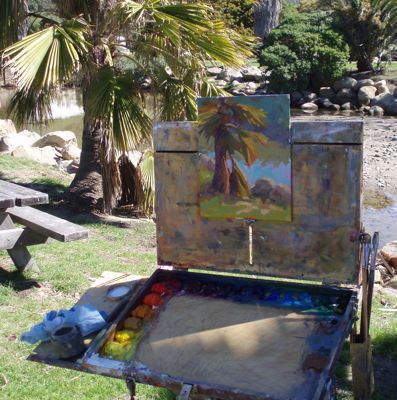 In this study, I applied what I learned in Camille Przewodek's workshop last week. I should have taken a photo of the underpainting! I used rich, strong color for both the lights and darks, then worked in color on top to get closer to the true color. For example, for the sky reflection in the water, I started with Permanent Rose and White, then added Manganese Blue and white.