The other day I wrote about "Sight Painting", a technique I use similar to a musian's sight reading that allows me to quickly interpret and paint a scene. I guess the reality is not much interpretation occurs as I'm simply capturing the scene as quickly and accurately (value, color) as possible.
Here're the 4 random images I selected from my digitial image archive. I displayed each on a TV in my studio. BWT, click any of these images for the full screen version if you'd like to see larger.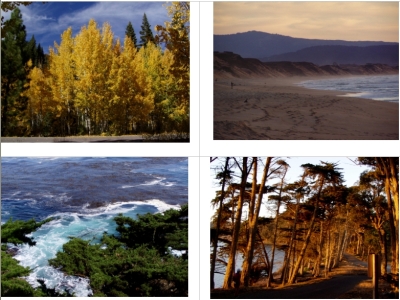 Reference Photos – Click to Enlarge
My first step was do paint a wash underpainting, using transparent pigments. I don't focus on value to much or color accuracy, but just want to kill the white of the canvas and get some nice colors to shine through.
These are the final studies. Again, didn't spend more than 15-20 minutes on each. Thing big shapes, accurate color masses, etc.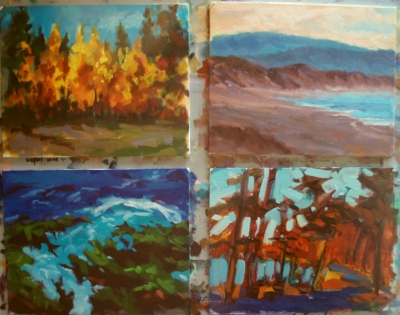 Finished Studies – Click to Enlarge
I think I'm most satisfied with the bottom left image of Point Lobos, although in it's current state I think it's too abstract (you're looking down from bluffs through Monterey Cypress at the white water/turbulence. Did you know what it was on first glance?