Great day today! The weather cooperated, my paint cooperated and my mind and brush worked together in harmony. That's a relief after yesterday. Let me know what you think of these!
I started out the morning in an area of Los Osos called Baywood Park. I've seen this spot before. There's a small shore and short pier, all surrounded by a few small boats. The boat I painted belongs to a one "Tom Freine". I painted in a sort of portrait style. I stylized the boat and muted the surroundings, as you would a portrait, almost in a sort of Cezanne style. This is almost a study in greens. I brought this to a critique tonight and got some good feedback for a couple of minor changes.
Tom's Boat – Oil on Linen – 16×12
I drove to Montaña de Oro State Park to rest between paintings. Glad I did, the weather and light were perfect. Several other artists around, too (thanks Daisy for picking me up some lunch!). I decided to get comfortable, so set up my chair and large umbrella.
I'm very happy with this painting, perhaps the best so far this week. The color in the shadows contrasted with the rim light of the bluffs drew me to this subject. The scene had drama, and I think I was able to capture some of it. I also spent some time on the lower right foreground rocks. I wanted to capture a convincing cast shadow and reflected light. Can't wait to see this one framed!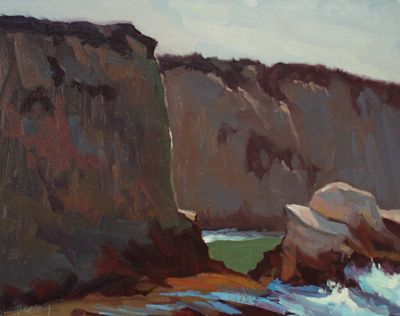 Bluffs (Montaña de Oro) – Oil on Linen – 16×20″

I feel I'm doing well–it's only Weds, and I have enough paintings for the show. Thursday and Friday I can relax a bit, which usually means I'll paint better. We'll see.
Tomorrow night (Thursday) I'll post all my paintings for the week and seek feedback from my readers here to help me pick the top 3 for the judge, and 3 backup (for sales). Please check in then and let me know what you think. Cheers!