Last night Doug Martin, Walter Porter, Daisy de Puthod and Stephen Sanfilippo and I got together for a dinner and critique as part of this year's San Luis Obispo Plein Air 2008 competition. The group had wonderful work, some will surely win something. Walter showed us a painting of boats in Los Osos that was particularly striking, although everyone's work was great. I'm going to apply some of their critique suggestions tomorrow as I frame paintings to hand for the exhibition. Please check my next post, as I'll be showing a summary of all of my work this week and will ask my readers to chime in with their picks for the show, as well as any critique advice.
This morning I did a great painting! After 4 days, I feel like I'm "getting into the grove" now. I drove down to Shell Beach, a part of Pismo Beach, just south of SLO. I timed things just right, because just as the weatherman had predicted, the winds started to pick up around 11am, making it difficult to paint. Finished just in time and enjoyed a cup of tea from my thermos for a break.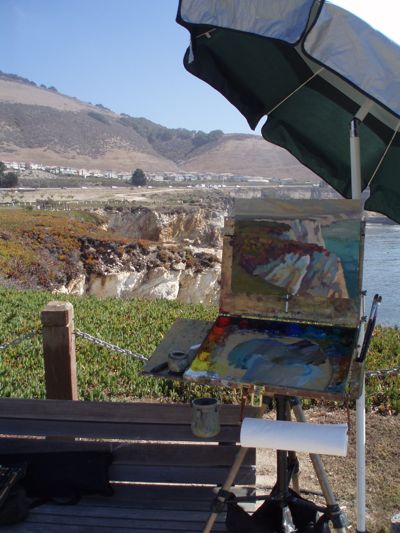 Here's the finished painting. No title yet. Suggestions? What should I call it? (click to enter a comment)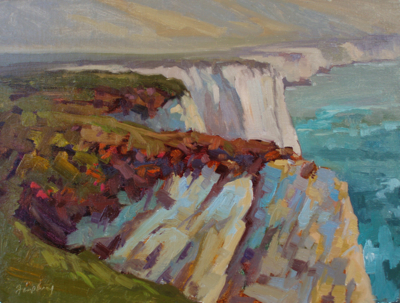 Untitled – Oil on Linen – 12×16″
The challenge here was to both push color and pay attention to values and ariel perspective (showing distance convincingly, mainly by blue-ing and bringing values closer together.