Ten fellow artists gave me their opinions of yesterdays paintings, thank you! Great feedback. Here's today's efforts. Went back to Trout Lake in the morning, then spent the afternoon at the first stop on the Telluride gondola.
I struggled with the reflection on this, repainting it at least 3 times. The wind kept chnaging, so one moment reflect sky would show (with wind), the next a perfect reflection. This version is in between.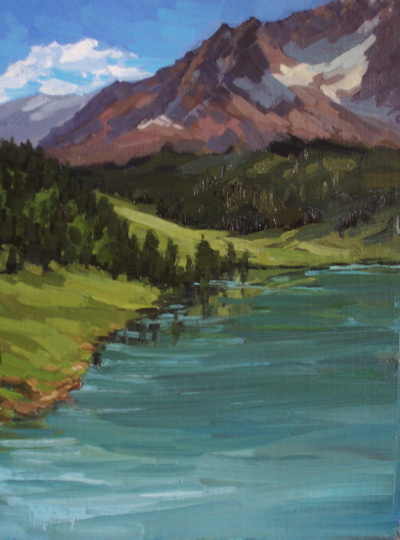 Trout Lake #2, Oil on Linen, 16×12 (AVAILABLE)

A gondola connects Telluride with Mountain Village, another town. This is the first stop, which is basically the top of the peak between the two towns. Not much here, other than hiking trails and a restaurant.
As you can see, this is an unusual composition. This is how it looked. It almost looks like two paintings, with the trees in the middle separating them. What are your thoughts on this one? Do the two halves need to be better integrated?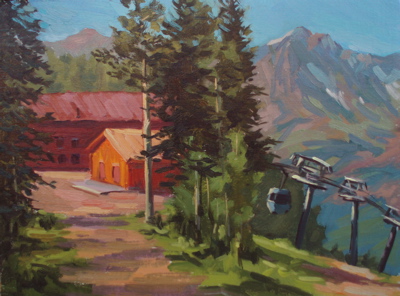 Telluride Gondola, Oil on Linen, 16×12 (SOLD)

Thanks again everyone for giving me crtiques this week. I need to turn in my final paintings for the show in a couple of days.